Our Catamarans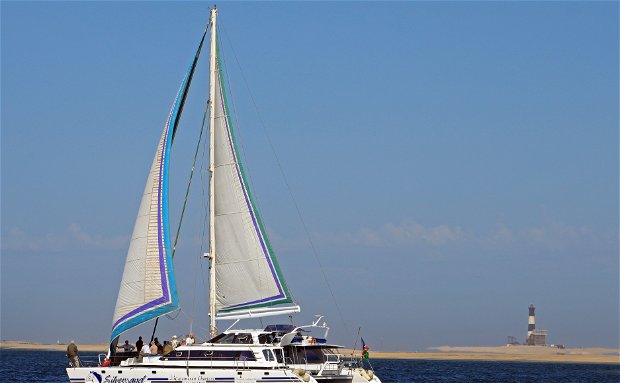 Catamaran Charters offers true sailing in the South Atlantic waters of Namibia with four modern and well-equipped sailing catamarans, as well as three motorised catamarans.
We set off daily with the following seven catamarans:
45ft Royal Cape Sailing Catamaran Silverwind, licenced for 25 passengers.
45ft Royal Cape Sailing Catamaran Silvercloud, licensed for 25 passengers.
55ft Cape Cat Sailing Catamaran Silverskye, licensed for 40 passengers.
60ft Simonis Sailing Catamaran Silversand, licensed for 44 passengers.
40ft Motorised Catamaran Silversun, licensed for 30 passengers.
38ft Motorised Catamaran Silvermoon, licensed for 25 passengers.
30ft Motorised Catamaran Silverstar, licensed for 20 passengers.
Our catamarans offer on-deck seating, one interior saloon, toilets, cabins and outside sheltered saloons where snacks are served. The safety of our guests is our prime priority. We make provision for persons with disabilities.
All tours are led by experienced guides and well-qualified and experienced skippers.  The safety of our guests is our prime priority.  We do a thorough safety briefing with our guests before they board.  Once aboard there is another safety briefing, where safety procedures and the use of life jackets are demonstrated.  Our catamarans have all required safety equipment and instruments, and are being surveyed thereon annually in this regard.  This is a legal requirement by the Department of Maritime Affairs as prerequisite for the issue of our annual safety certificate.  The survey includes checks on the required number of life jackets, all safety and firefighting equipment and the use thereof, life rafts, as well as the functionality of all instruments.  Each of our vessels is equipped with radar, so we have situational awareness even in heavy fog conditions with zero visibility.  Our vessels are also fitted with Em-Track tracker devices, through which each vessel is tracked at all times.  
Each of our seagoing staff has the Basic Safety and Security qualification by the Namibian Fisheries Institute, as well as a First Aid Qualification. 
As we are sailing in the Walvis bay area, the maximum distance from land at any time during the excursion is never more than 4 Nautical Miles.  During this time, all boats are reachable at all times on the general frequency (Channel 66), as well as the emergency Channel 16.  We are also able to make contact with Port Control on Channel 12 at all times.  We furthermore have cellphone reception throughout.

Catamaran Charters operates the following sailing catamarans:
One 60′ Simonis Sailing Catamaran Silversand, licensed for 42 pax, built in 1997
One 45' Royal Cape Sailing Catamaran Silverwind, licensed for 25 pax, built in 2006
One 45' Royal Cape Sailing Catamaran Dreamchaser, licensed for 25 pax, built in 2007
One 55' Cape Cat Sailing Catamaran Silverskye, licensed for 44 pax, built in 2006