Sundowner Cruise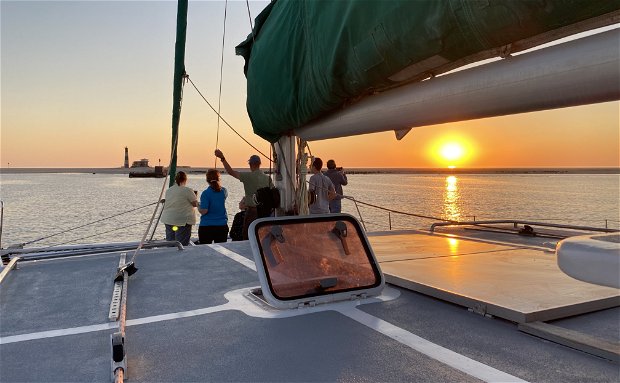 Join us every evening for a relaxed sundowner sailing cruise in Walvis Bay while you unwind on one of our spacious sailing catamarans. Experience the sunset while sipping ice-cold sparkling wine and feasting on our delicious Namibian fresh oysters.
We set sail daily in summer at 17h00 (Check-in 16h45) and in winter at 16h00 (Check-in 15h45) and initially head along coastline where you will be able to observe the Walvis Bay harbour town in last light of the day. 
While enjoying sundowners, we then head westward past the oyster farms.  There is always the opportunity to meet with pelicans and view playful seals, and if luck permits, leaping dolphins and shy sunfish.  We hoist the sails of our four sailing catamarans whenever possible, switch off the engines and let our guests experience true sailing.  Guests can even help in putting up the sails and rigging the lines!!   With the sun setting behind the lighthouse at Pelican Point, we serve chilled sparkling wine and our famous Namibian fresh oysters. 
We sail slowly through the bay and return at about 19h30 (winter at 18h30), just in time to let the evening begin.