Seal Kayaking Adventure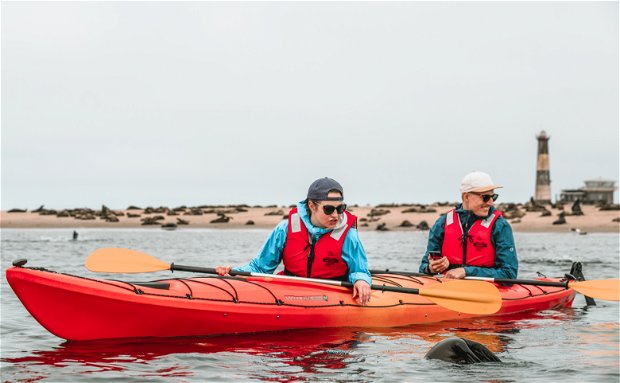 An amazing and family-fun active adventure: Guaranteed!! Suitable for all ages and from novice to expert - let us introduce you to the playful and curious resident seals by kayak - all in the calm Atlantic Ocean in the idyllic bay of Walvis Bay. Round off the morning's kayaking with a hearty brunch - and an extravagant bed of fresh Namibian oysters paired with crisp sparkling wine on the beach!
We depart from the Catamaran Charters and Kayaking check-in office at the Walvis Bay Waterfront by jeep every morning at 08h00 to our kayaking spot, which is about 30 minutes' drive to the old lighthouse at Pelican Point.  On the way we will pass the active Walvis Bay Salt Works and you will see saltwater ponds from where the salt is being extracted.  Keep your eyes open for a multitude of shorebirds and waders, such as Pied Avocet, Black Oystercatcher, White Breasted Plover and flamboyances of greater and lesser flamingoes.  Upon reaching the beach, it is time for action - kayaking in the calm waters of the bay of Walvis Bay.  We will be joined by young and payful Cape Fur Seals from a seal colony nearby who just love to investigate our kayaks and frolic around and under the kayaks or play with our paddles.  There is ample opportunity for photographs and selfies with them.  Keep a lookout though for larger seamammals such as bottlenose and heaviside dophins who regularly frequent the area as well.
The pace of the kayaking is determined by you - whether it is a slow hang on the water to just chill and take in the environment, or whether you prefer going a distance - our guide will adapt to your style.
The morning's kayaking is rounded off by a light breakfast with hot coffee, tea or hot chocolate on the beach - as well as fresh Namibian oysters paired with crisp sparkling wine.  There is time to explore the beach and look for typical white mussel and clam shells of the area, chill in the sun, bath in the calm Atlantic Ocean while observing the Pelican Point lighthouse and seal colonies in the distance.  You may even spot a black-backed jackal or two.
The drive back takes us along the Pelican Point Peninsula and we should arrive back at the Waterfront at around 12h30.
KAYAKS AND GEAR
All our kayaks are sit-in kayaks:
5 x Perception Kayaks Cove 14.5 tandems (tandem means a 2 seater)
2 x Perception Kayaks Carolina 14*
2 x Wilderness Systems Polaris tandems
1 x Wilderness Systems Tsunami 125*
1 x Wilderness Systems Tsunami 140*
We offer all guests :
Life jackets
Rain jacket/pants
Gloves
Small dry bags
SAFETY
Children joining us on the tour must be able to swim. You will be taken through a quick safety briefing before starting to kayak. The kayaking area is protected and you should mostly expect calm waters. Choppy waters are however possible if wind comes up.